Specifications
Matte Black:

Color%5Boption_id%5D=38&Color%5Boption_set_id%5D=22&Color%5Bdisplay_name%5D=Color&Color%5Bvalues%5D%5B5%5D%5Blabel%5D=Cumulus+Cotton&Color%5Bvalues%5D%5B5%5D%5Bsort_order%5D=17&Color%5Bvalues%5D%5B5%5D%5Bvalue%5D=268.preview.jpg&Color%5Bvalues%5D%5B5%5D%5Bis_default%5D=0&Color%5Bvalues%5D%5B5%5D%5Boption_value_id%5D=268&Color%5Bvalues%5D%5B6%5D%5Blabel%5D=Custom&Color%5Bvalues%5D%5B6%5D%5Bsort_order%5D=18&Color%5Bvalues%5D%5B6%5D%5Bvalue%5D=269.preview.jpg&Color%5Bvalues%5D%5B6%5D%5Bis_default%5D=0&Color%5Bvalues%5D%5B6%5D%5Boption_value_id%5D=269

Bent Strap:

5 Year Limited Warranty: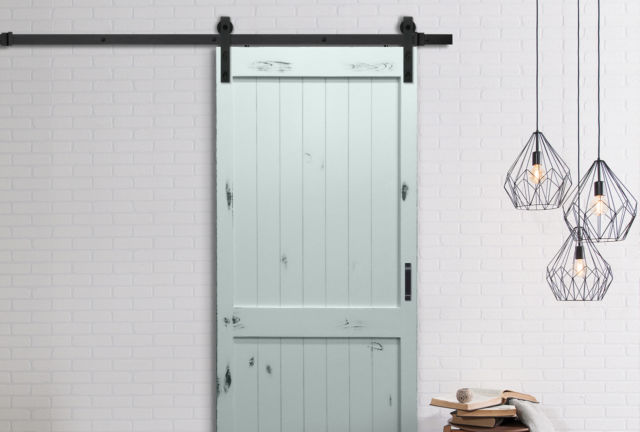 Details
Pre-finished solid wood door featuring a distressed finish
Use for closets, as a room divider, or passage door applications
Ideal for openings 28" - 34" wide
Trackless door design keeps floor opening clear and hazard-free
Pre-finished doors are manufactured in a way that requires no further painting or staining
To avoid damage to the door do not attempt to paint or finish this product in any way
Technical Features Designed to Perform
Custom Finishes

Available in the colour of your choice in a distressed finish

Kit Includes:

36″ x 84″ x 1-3/8″ Pre-Finished Door
78″ Hardened Steel Track & Hardware
Handle
Matte Black Finish
Questions & Answers
Yes the track can be cut with a fine tooth hacksaw or similar tool. However we do not recommend this as we cannot guarantee the ends will not be damaged.

1-3/4" high x ¼" in thickness x 78 ¾" or 96".

78-¾" and 96" track lengths are available.

Our hardware accommodates doors weighing up to 250 lbs.

Yes. Renin offers a by-parting hardware track which allows two sets of doors to travel independently on two tracks.

Doors are approx. 4" wider and 4" higher than the door opening. Barn door track length is generally twice the door width.

Yes, Renin offers 18" barn doors which work on an existing 78 3/8" track. Renin also offers a track joiner which allows you to attach 2 kits & tracks together.

The mounting board size is 5 1/2"× 81 3/4" × 3/4". This size is standard for our Natural Wood and Engineered Wood doors.

Yes. Renin offers a complete and comprehensive assortment of barn door hardware, tracks and replacement parts. Visit our Hardware section online or contact Renin Customer Service for pricing and availability.

This is used in drywall applications and allows you to drill the board into the studs above your door. You can then center the hardware track above your door and mount the track directly on the mounting board to ensure your barn door kit is securely fastened to the wall.