When it comes to design and decor, sometimes "loud" can be striking and make a statement. When it comes to interior doors, quiet is always the way to go. Now, it's easier than ever to say goodbye to resounding slams thanks to our dynamic range of doors equipped with the perfect amount of controlled, soft-closing action.
Take our Easy Glide Soft Close Barn Door for example – equipped with Renin technology – that comes pre-installed with soft-close mechanisms and designed for ultra-smooth open and close action. The trackless floor design offers a clear, hazard-free opening and can be hung in almost any room. With an easy installation process and almost inaudible operation, what's not to love?
Tip: No matter how hard you slide your door, the Easy Glide Soft Close Barn Door technology will ensure your door quietly and gently closes into the correct place every time.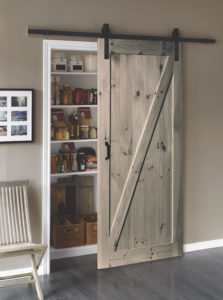 Aside from being safe and quiet, this door packs even more qualities. Barn doors can transform your space with a rustic feel or act as a bold, contemporary element depending on how you stain or paint it. Your personal taste can stand on display with the natural look of unfinished pine, or a simple stain or coat of paint can convert your door into the style statement you desire. Not into painting? New prefinished barn door options are available!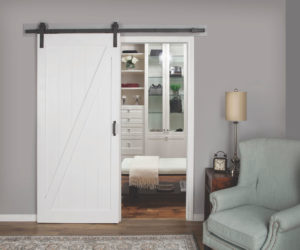 Renin makes it easy to envision our Easy Glide Soft Close Barn Door in any space: 
Add convenience to your closet.
Tired of wasting space and constantly opening and closing your closet door? Try sliding it! With bright color choices and neutral tones to pick from, there's something for everyone. This door works brilliantly as part of a walk-in closet, a front entrance closet, or even your mudroom closet.
Upgrade your office style.
Impress your clients and keep your office looking organized by adding an Easy Glide Soft Close Barn Door into the mix. The modern look works well in any sized room and keeps the noise level down for those working around you.
Divide and conquer.
Create an accent piece while splitting your space with an Easy Glide Soft Close Barn Door. If you want to cut the noise, separate an area or define a room – this is your go-to solution. The sliding action of the door makes it easy to open or close and will better establish divided spaces in your home.
 Create a passageway that pops.
A door often influences the impression that someone gets before they enter a new room. Make it a strong one with an Easy Glide Soft Close Barn Door by Renin. Passageway doors are a great way to separate rooms in your home and create an intimate space. Whether you're looking to section off a room, make a personal working space, or silence your surroundings, incorporating an Easy Glide Soft Close Barn Door means less 'shh!' and more 'oohs' and 'aahs'.
Space-saving solution.
Floor plans for new homes and condos do not have the space traditional homes had, making barn doors the perfect solution. By installing an Easy Glide Soft Close Barn Door that slides along a wall, you will be freeing up previously underutilized space normally taken up by a swinging door's range of motion.
Top-notch and transitional.
Some doors tend to stick or warp depending on the weather but with a barn door, you don't need to worry. An Easy Glide Soft Close Barn Door is capable of withstanding seasonal changes in temperature and by simply pulling on the door, it opens and closes with ease making it accessible to everyone in the home regardless of the season.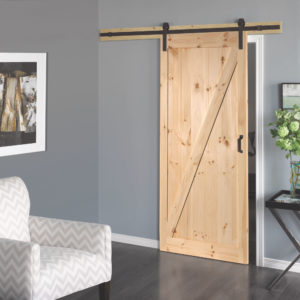 Are you ready for your next renovation?
The best time to get started on your next home project is now! Get started on renin.com.