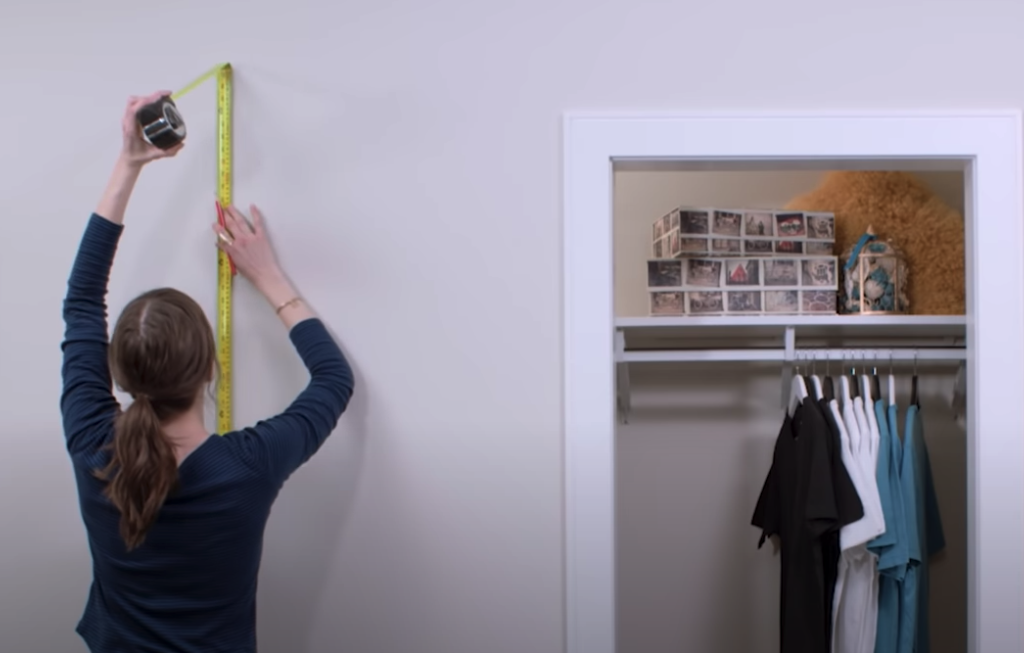 Barn doors are a functional and decorative addition to any space.  While selecting the design, style, and finish of your perfect barn door can be a challenge because of the endless possibilities, step one is simple – measuring to ensure you get the perfect fit!
There are five key measurements you'll need:
Door opening width
Door opening height
Ceiling clearance – from floor to ceiling
Wall clearance – from opening to the wall on either side
Floor clearance – from opening to the wall on either side
Grab your step stool, a tape measure or your favorite digital measuring app, a paper, pencil, and let's get started.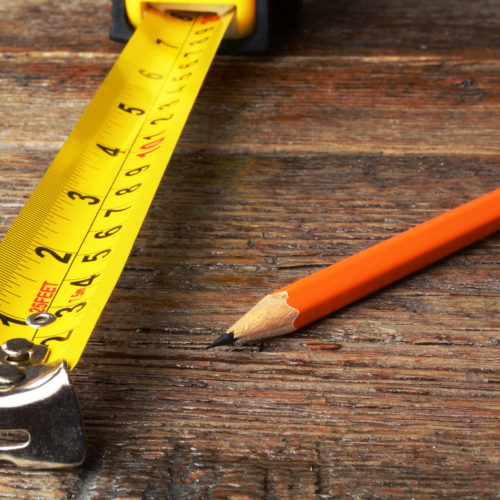 Door Opening – Width and Height
Renin's barn door dimensions are typically 84" or 88" tall, 1 to 1-3/8" thick, and 36" wide or greater. Remember that your door opening is smaller than the door itself. Our assumption is that your opening already is framed and finished. If you have trim around your door, you may want to get a barn door that covers your trim completely or allows it to show slightly around your door.
Measure the width across the opening by placing your tape measure against the flat inside of the frame (called the door "jamb") and stretching across to the other side. If your width is 28" to 34", we recommend you use a 36" wide barn door. If it is 34" to 40", you'll want one that's at least 42" wide.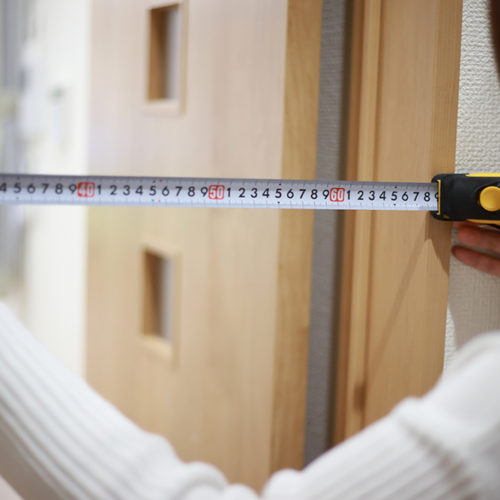 Next, measure the height of your door opening. Place the tape measure on the floor and using your step stool, reach up to the flat underside at the top of your opening. This height ideally should be 80 ½" which is about the standard opening for a door. We also recommend you have a person helping you measure to ensure your safety while using a step stool.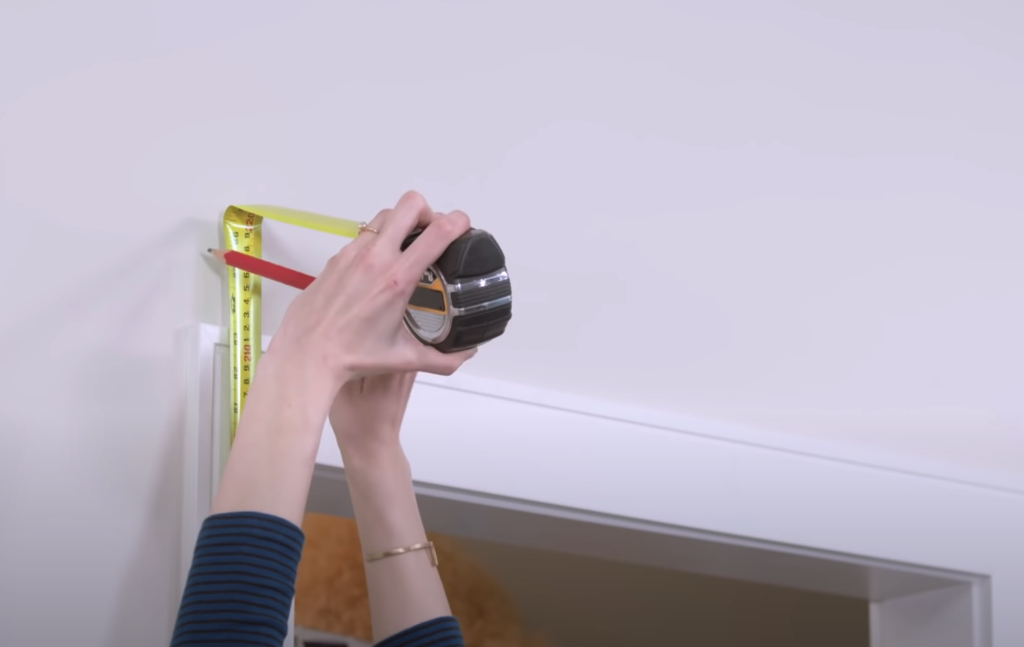 Ceiling Clearance
For a standard 84" high barn door, stand on your step stool and measure from the ceiling to the floor, ensuring that you have at least 90" in total or 6" of clearance between the top of the jamb and the ceiling. This will ensure you can adequately install the barn door hardware. For doors that are larger than 84" we recommend you have at least 6" of clearance from the ceiling to the top of your door.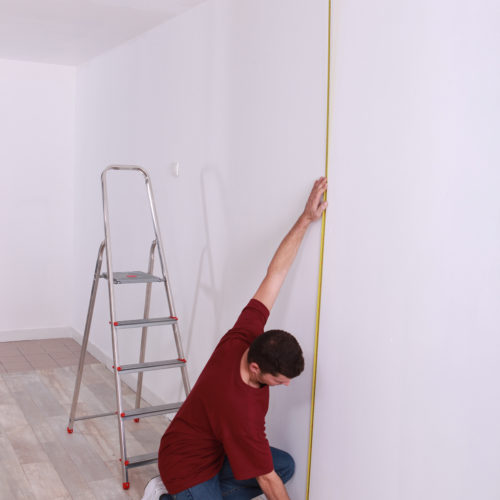 If the door will be hung from a standard hardware track on a door opening that is 80 ½", it should be mounted 85-3/4" from the highest point of the floor, above the finished trim (if applicable) at the top of your opening. For a 36" wide door, our standard hardware mounting track runs horizontally 78-3/4". For our 42" door, it's 83-1/8 inches. This provides extra sliding space for the larger door and opening.
Wall and Floor Clearance
To slide your barn door open and close, your adjacent wall and floor space will need to be clear of light fixtures, electrical switches, outlets, heat registers, smoke detectors, artwork, and/or any other obstacles.
Determine which wall and direction you want your barn door to slide open. On this wall, measure from the inside of your door jamb across the wall surface. You will need a minimum of 40-3/8" for a 36" wide door and at least 43" for a 42" wide door. The entire wall, from ceiling to floor, will need to be unobstructed.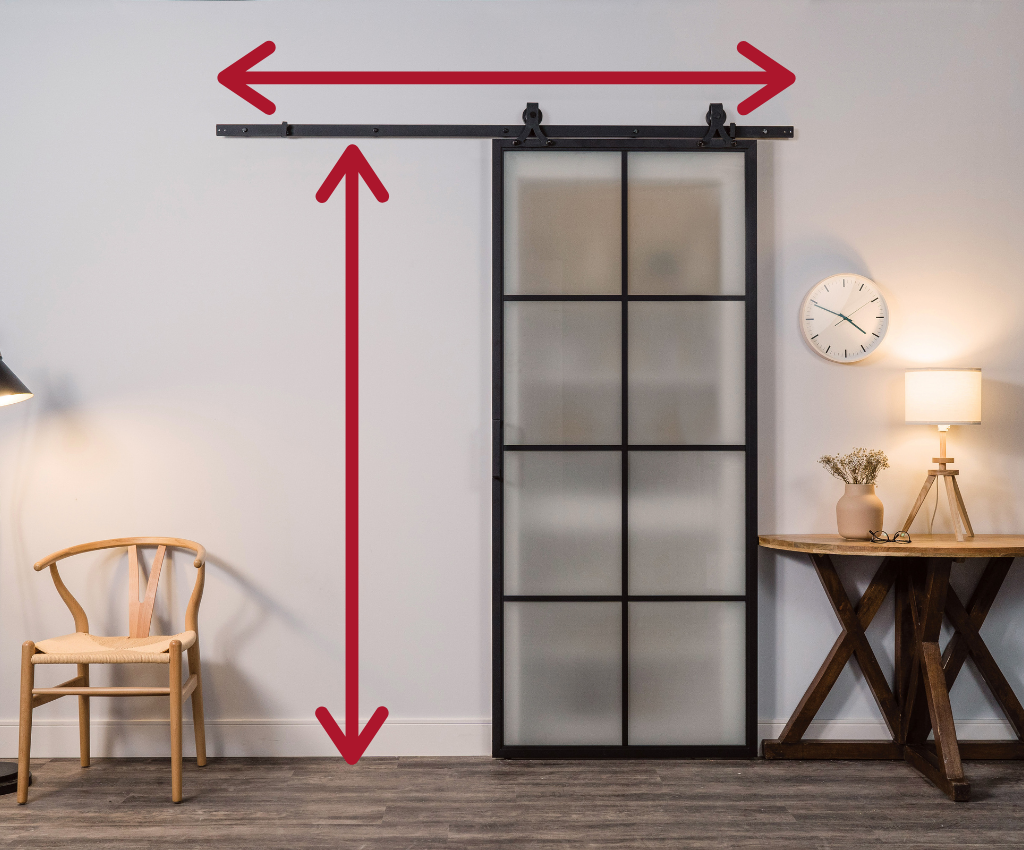 When you slide your barn door closed, it will need to be free to travel from its open position, across the mounting hardware above the door's opening. This lets the door overlap the wall on either side of the door frame when it's shut. For a 36" wide door, the minimum floor clearance is 79" wide. For a 42" wide door, at least 84" of floor clearance is necessary.
Installed and centered on the door opening, a closed door can extend a few inches on each side of the door jamb for privacy. Space requirements will vary if the door's mounting track is shortened or installed in a different position.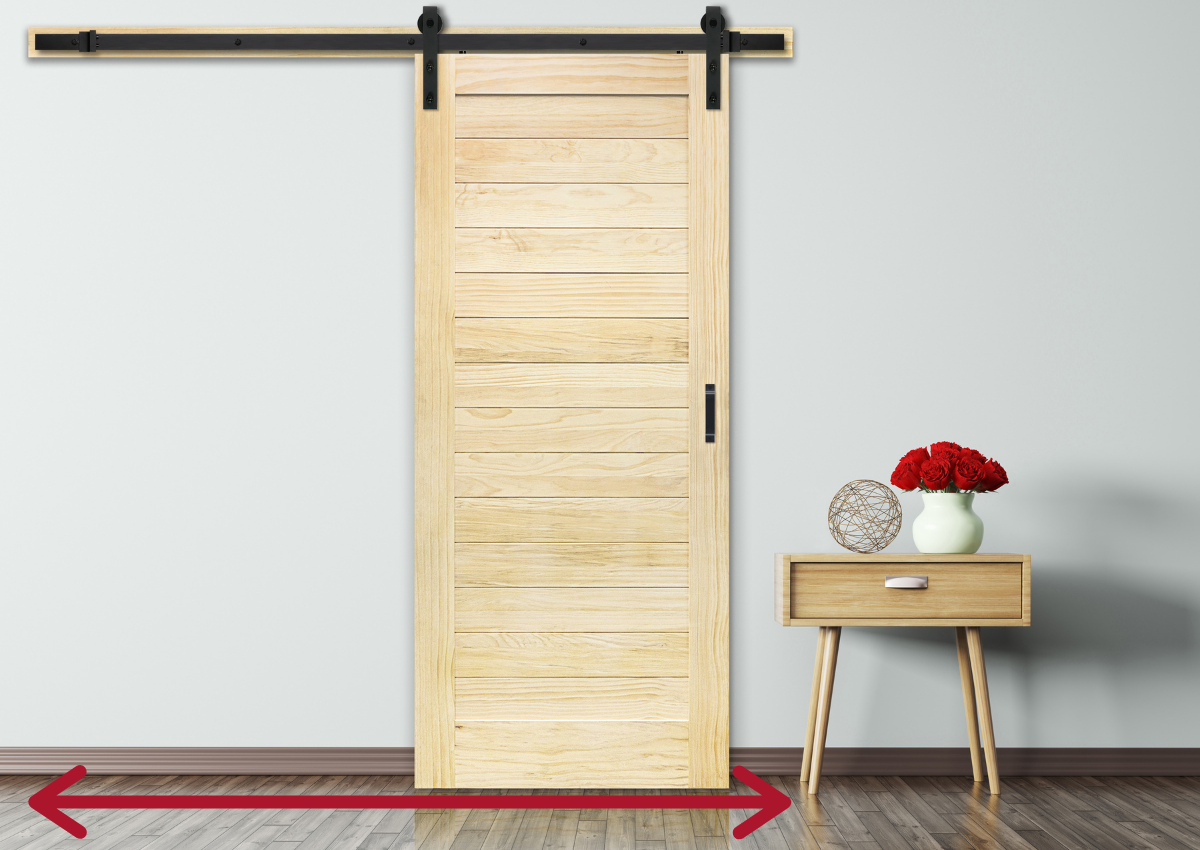 Pro Tips
We recommend taking multiple measurements in case your door opening is not square or your floor is not level. The widest point in your door opening and the highest point on your floor clearance will be the dimensions to use. Remember to account for both the open and closed positions of your door.
Our barn door kits are conveniently packaged to fit most vehicles. While the kit is sized to pass through most doorways, the angles in every home could be a bit different. Make sure you have enough room and a clear path to move the door to its intended opening. When you're ready for installation, hanging the barn door will be easier with two people.
With your five key measurements, you can be confident that your barn door will fit and function exactly as you expect.
At Renin.com, we have barn doors available in different widths and heights. Explore your barn door options here.