Undoubtedly one of the biggest impacts this pandemic has caused is the isolation of our children. With an online learning environment becoming the norm, kids have been forced to spend more time in their bedrooms, which in turn, substitute as a classroom for a good portion of their day.
Teenagers specifically have had the least amount of in-school exposure since the restriction measures took effect. As a designer, I'm hearing from so many homeowners that are desiring a fresh and updated dose of inspiration for their children.
What better way to motivate a 15-year-old these days than to update and makeover their bedroom, so it serves as both inspiration and comfort. So where does one start with this?
I like to approach a teen's bedroom from the concept of creating zones and incorporating "stand out" elements within those zones.
Here are a few of the must-have items to implement in your teens' room, that is sure to win some extra parenting points.
Statement Lighting
Overhead lighting in a bedroom can literally change the entire feel of a space.  It adds depth and texture and is a great way to pull together all the elements in a bedroom. Choose a light that speaks to the personality of your teen and don't be afraid to go bigger than you think when selecting the size.
Here are two contrasting examples of statement ceiling lights to consider: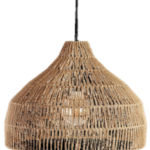 Woven pendant light adds warmth and texture and is a great way to bring in a casual, boho, and natural aesthetic to the bedroom.
A multi-globe pendant adds a modern touch, provides ample lighting, and the gold and black metal can be utilized in other parts of the bedroom to create cohesion.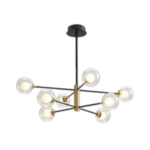 The Study Zone
One of the best ways to amplify the desk area is to add a statement chair to the mix.  This elevates the learning environment by injecting both comfort and style into space.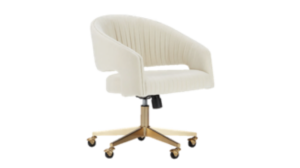 The plush velvet material adds a softness, the pleated curve gives it style, and the adjustable height adds comfort. A win on all fronts.  These often come in a variety of colors, such as emerald green or caramel, which can lend an extra pop of fun to the room.
A little more masculine and streamlined in its features, this neutral chair will pair well in any style of the room. The upholstered seat mixed with the leather backing pairs comfort and contrast.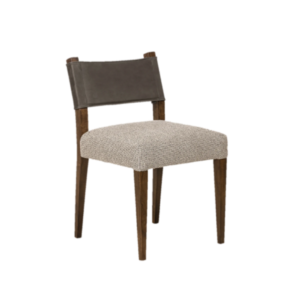 Statement Barn Door
Take your teens' room up a notch through the addition of a barn door.  No more standard hollow core doors, but instead an engineered wood door with stand-out matte black hardware.  You can opt to paint it a custom color to match the style and mood of the bedroom.
The Sleeping Zone
Let's face it, teens do spend A LOT of time in their bedrooms, well, sleeping.  So focusing on the bed is a must for this makeover. Consider purchasing an upholstered queen-size bed to add maturity to space and suit their ever-growing bodies. Don't forget to layer in textures through oversized pillows and cozy throw blankets.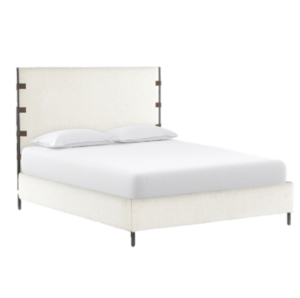 This upholstered bed in an ivory boucle with leather strap details creates contrast but is a versatile choice for any aesthetic. On the other hand, a dark grey plush upholstered bed adds richness to the room, leaving the walls and decor open for a lighter color palette.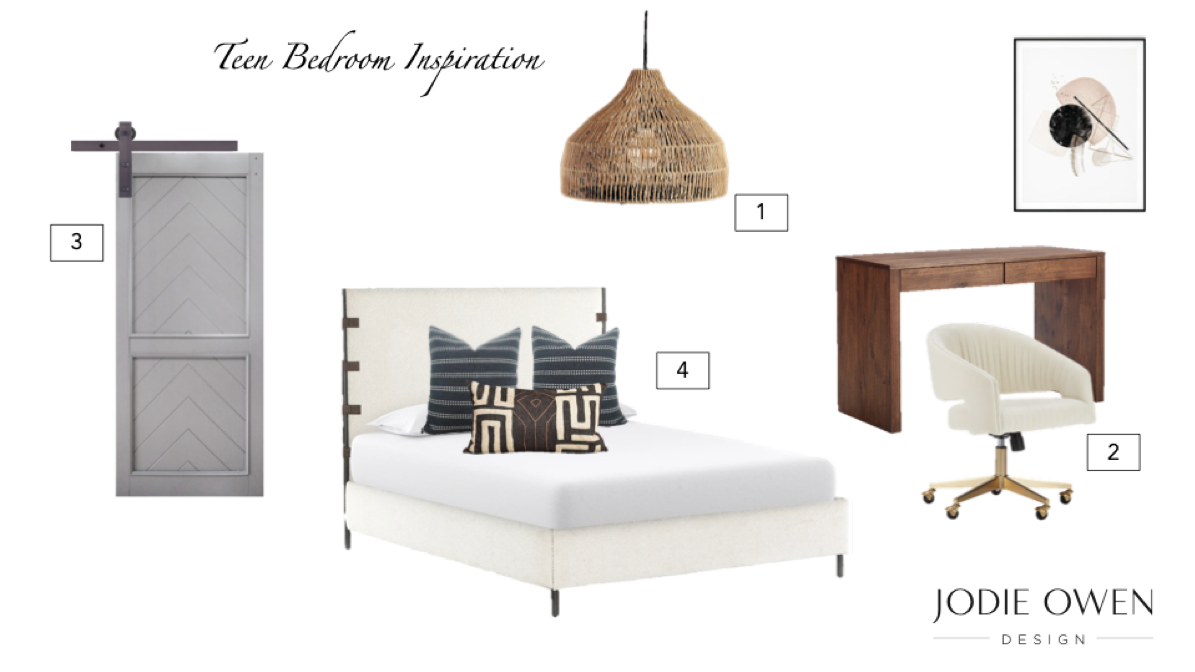 The great thing about these options is that they allow you to instantly update and change the feel of the space without having to commit to a complete head-to-toe makeover. Incorporating these stand-out elements will raise your teens' vibe and make staying at home a little more inspiring. But beware, "go to your room" may no longer hold the same intention.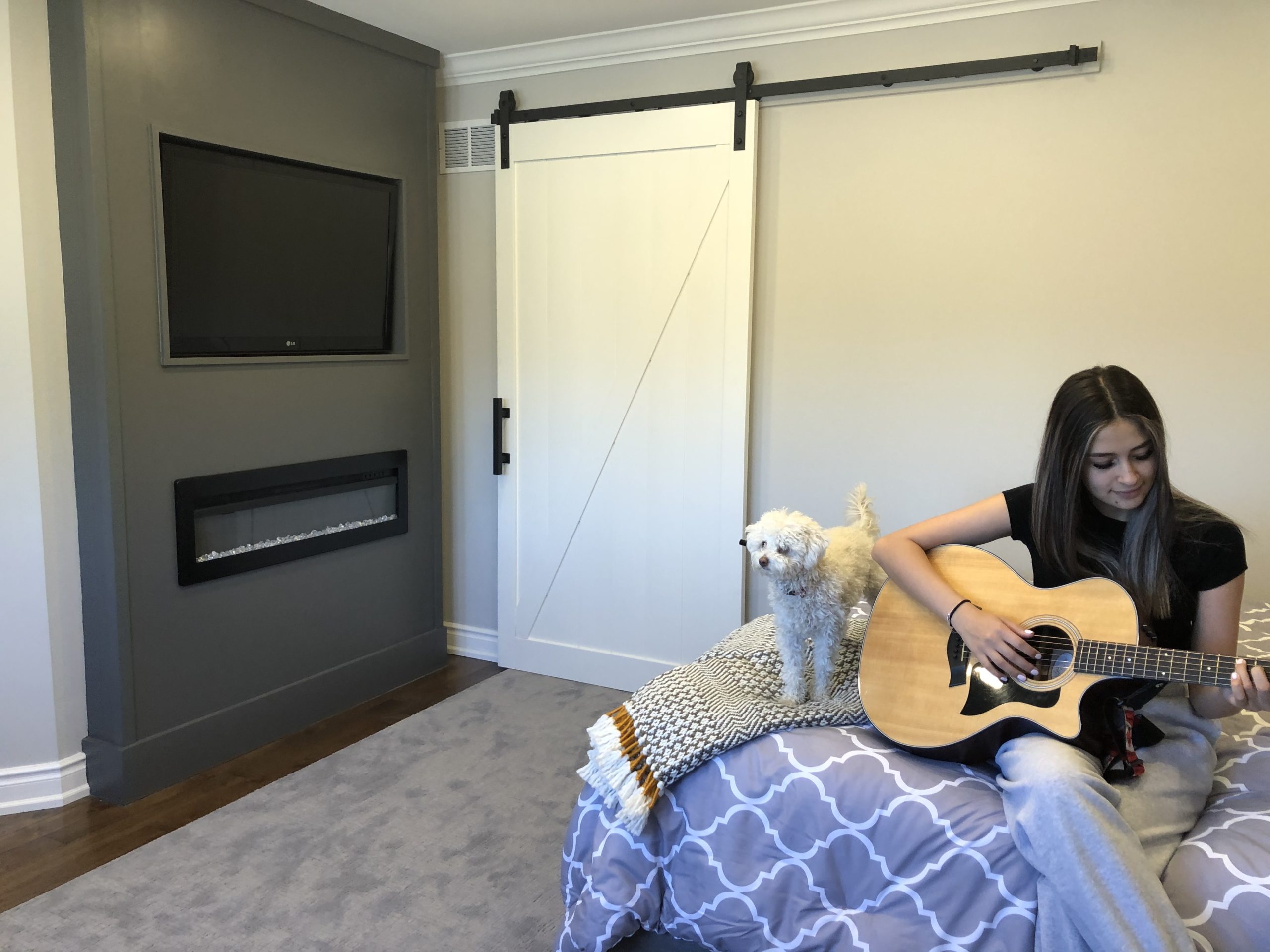 The feature wall is painted in Collingwood by Benjamin Moore again, with an LED Electric fireplace from Amazon.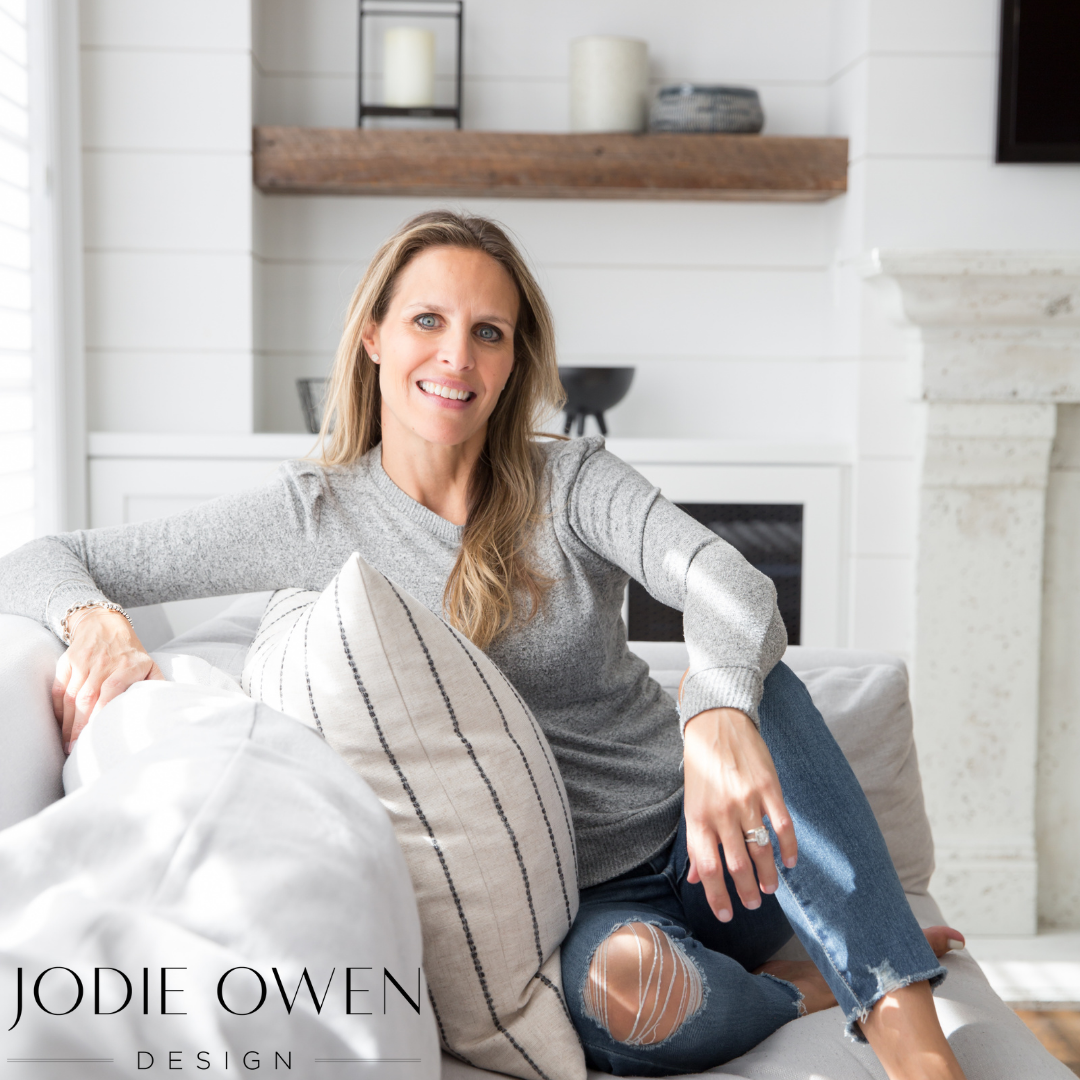 About Jodie Owen
Jodie Owen is the Principle Designer, and Owner at Jodie Owen Designs, and her philosophy is: "With a love for neutral aesthetics, we add warmth and coziness by layering styles, adding texture, and keeping things simple. It's casually refined living at its best."