Specifications
Barn Door Hardware Color:

Matte Black

Hardware Type:

Bent Strap

Warranty:

5 Year Limited Warranty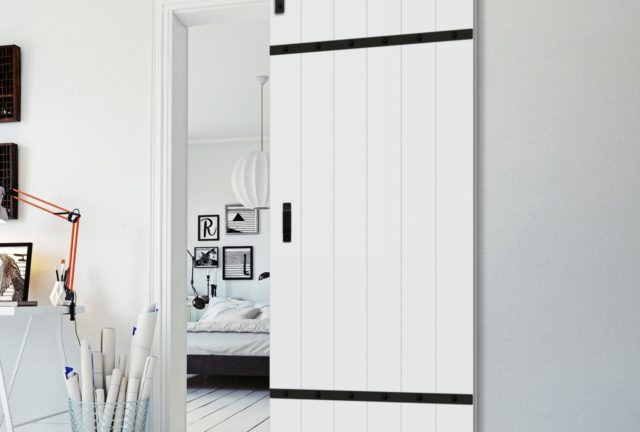 Details
Easy to bring home - compact box fits in most vehicles, package dimensions: 87" x 12" x 8"
Easy to assemble – only a few simple steps to build your own door
Easy to install - complete kit to transform a closet or doorway
Easy on the wallet – no labour costs, build it yourself in a snap and on a budget
Easy on the eye – the hottest home design trend everyone is talking about
Questions & Answers
This is used in drywall applications and allows you to drill the board into the studs above your door. You can then center the hardware track above your door and mount the track directly on the mounting board to ensure your barn door kit is securely fastened to the wall.

The mounting board size is 5 1/2"× 81 3/4" × 3/4". This size is standard for our Natural Wood and Engineered Wood doors.

Yes. Renin offers a by-parting hardware track which allows two sets of doors to travel independently on two tracks.

Yes, Renin offers 18" barn doors which work on an existing 78 3/8" track. Renin also offers a track joiner which allows you to attach 2 kits & tracks together.

Yes. Renin offers a complete and comprehensive assortment of barn door hardware, tracks and replacement parts. Visit our Hardware section online or contact Renin Customer Service for pricing and availability.

Yes, our Easy Clip Soft Close attachment can easily be mounted to our flat track barn door hardware kits

This is generally not recommended unless metal studs have been additionally reinforced with vertical wood stiffeners inside metal cavity of metal stud and solid horizontal wood blocking securely anchored between studs has been installed.

Track/end stops are included in kit – left hand and right side.

Yes for drywall applications only. Drywall screws and anchors provided in kit. NOTE: the drywall screws in the kit require a 3/8" hole be drilled into the backer board and the drywall to accommodate the drywall anchor.

You will need approximately 5 3/4" of clearance.

Yes. Full metal ball bearings.

2-3/4" in diameter, all rollers are black in colour. Composition of roller is Polyoxmethylene; more commonly known names are acetyl or polyacetyl.

Barn Doors; Renin offers various types of finished and prefinished barn doors. Our prefinished barn doors come in various styles and colors. Our solid wood doors are made from unfinished pine or maple.

Hardware; Renin offers barn door hardware in a variety of colors. Matte Black, Antique Bronze, Stainless Steel are our traditional colors available with new colors and finishes being added.

Yes. Center to center dimensions are 17 -11/16". Holes may not line up with typical wall stud spacing. This is why a wall backer is provided. You should affix your wall backer above your opening by drilling into your wall studs to secure the backer. You can then affix your track hardware into the wall backer. Ideally, at least one or two pre-drilled holes on the wall backer are affixed to your studs.

Yes the track can be cut with a fine tooth hacksaw or similar tool. However we do not recommend this as we cannot guarantee the ends will not be damaged.

1-3/4" high x ¼" in thickness x 78 ¾" or 96".

78-¾" and 96" track lengths are available.

Our hardware accommodates doors weighing up to 250 lbs.

Doors are approx. 4" wider and 4" higher than the door opening. Barn door track length is generally twice the door width.