Specifications
Barn Door Hardware Color:

Matte Black

Hardware Type:

Bent Strap

Warranty:

5 Year Limited Warranty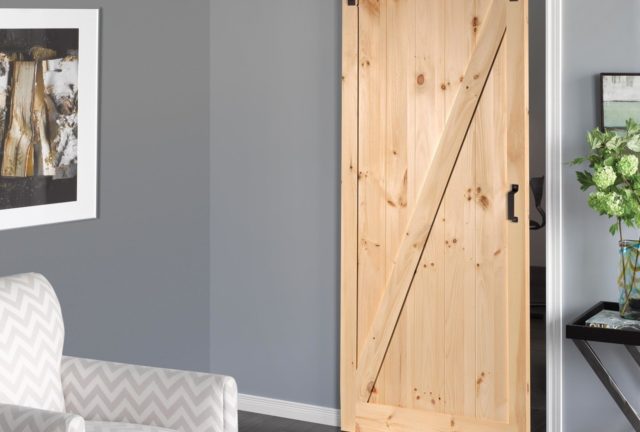 Details
Pre-installed Easy Glide Soft Close mechanism for a quieter and smoother closing action
Monterey Pine gives this barn door a rustic appearance showcasing the natural knots and wood grains
Unfinished pine door with matte black straight strap barn door hardware
Pine wood blocking mounting board supplied for drywall installation
Door with kit is installed over finished opening height of 80-1/2-in
Trackless door design keeps floor opening clear and hazard-free
Technical Features Designed to Perform
Kit Includes:

36″ x 84″ x 1-3/8″ Pre-Finished Door
78″ Hardened Steel Track & Hardware
Handle
Matte Black Finish

Pre-installed Easy Glide Soft Close mechanism for a quieter and smoother closing action

No drilling required

Barn Door is ready to hang with pre-drilled mounting holes and bottom groove for floor guide
Questions & Answers
78-¾" and 96" track lengths are available.

Our hardware accommodates doors weighing up to 250 lbs.

Yes. Renin offers a by-parting hardware track which allows two sets of doors to travel independently on two tracks.

Doors are approx. 4" wider and 4" higher than the door opening. Barn door track length is generally twice the door width.

Yes, Renin offers 18" barn doors which work on an existing 78 3/8" track. Renin also offers a track joiner which allows you to attach 2 kits & tracks together.

Yes. Renin offers a complete and comprehensive assortment of barn door hardware, tracks and replacement parts. Visit our Hardware section online or contact Renin Customer Service for pricing and availability.

Yes, this accessory is available on a selection of Renin barn doors.

This is generally not recommended unless metal studs have been additionally reinforced with vertical wood stiffeners inside metal cavity of metal stud and solid horizontal wood blocking securely anchored between studs has been installed.

Track/end stops are included in kit – left hand and right side.

Yes for drywall applications only. Drywall screws and anchors provided in kit. NOTE: the drywall screws in the kit require a 3/8" hole be drilled into the backer board and the drywall to accommodate the drywall anchor.