You've chosen the perfect barn door (or barn doors) for your home. After you've made thoughtful decisions on the style, material, the color or finish, you're almost done. The last thing to consider is finding the perfect barn door hardware to complete the look.
Choosing the right hardware to be used on your sliding barn door is essential to completing the look and feel of your room. By following the four simple steps below, you'll soon have the room of your dreams
Step One: Choose Your Design
The first step in selecting the perfect hardware for your barn door is choosing a design. No matter what your design style is, from traditional to rustic to modern, the right barn door hardware design will help to make your vision a reality.
How much hardware do you want visible? Is your aesthetic modern or traditional? Or does it fall into rustic or contemporary? All are important questions to consider as you select your sliding barn door hardware.
Tip: When choosing your barn door hardware, keep in mind the color and style of other door hardware in the same room.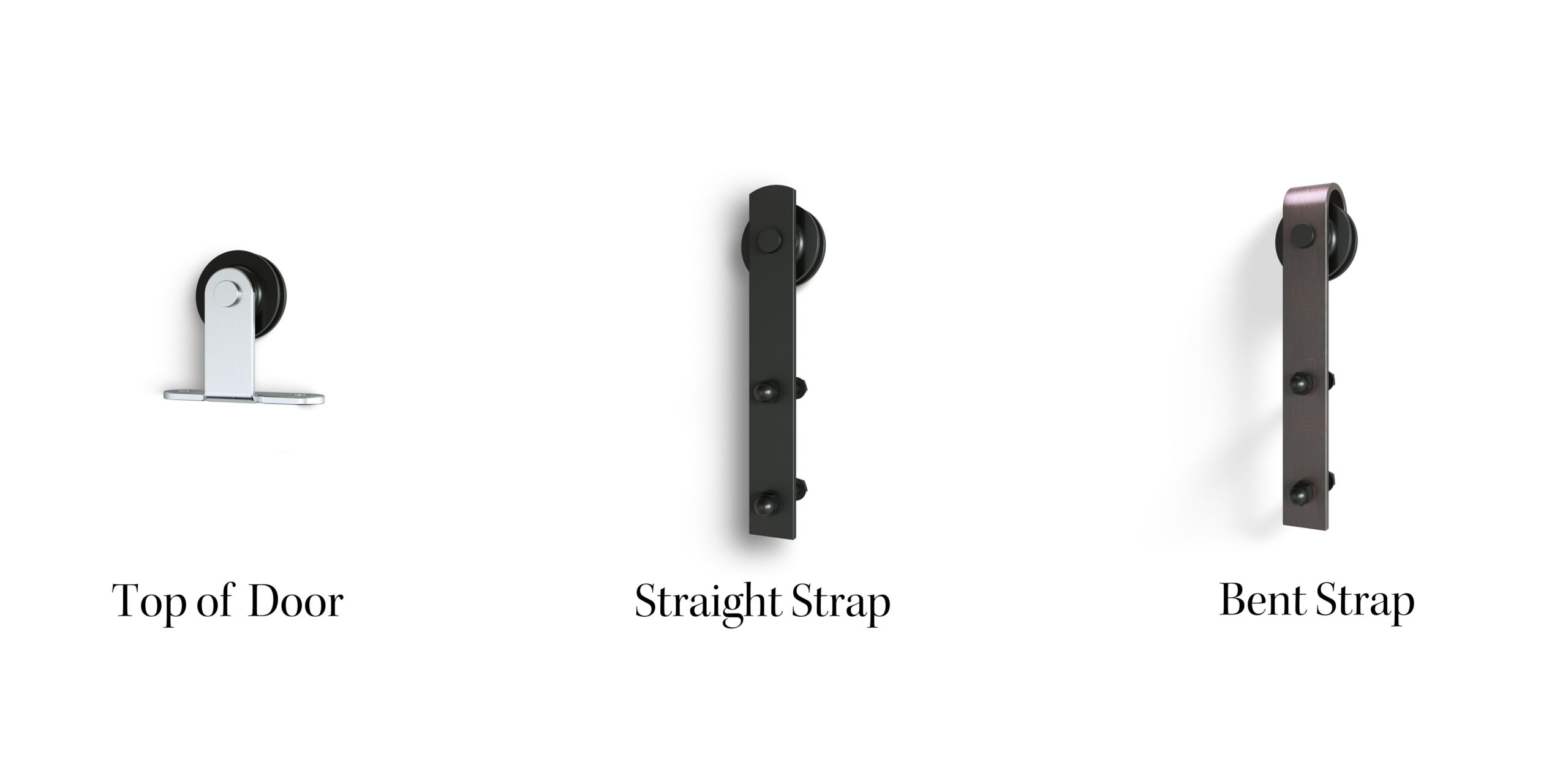 A top-of-door design features a classic face mount flat strap to hang wood doors on a traditional barn door rail track.
The straight strap design features a classic face mount flat strap to hang wood doors on a traditional barn door rail track.
The bent strap design features a classic face mount flat strap to hang wood doors on a traditional barn door rail track.
If you are mounting two barn doors, you'll need to decide on sliding barn door hardware for a bypass (two barn doors sliding in separate tracks in front of each other) or bi part system (two doors that share a longer, single opening and slide apart to either side of the opening).
Step Two: Check Weight Restrictions on Your Hardware Design
Once you've selected your hardware style, you'll want to make sure it can support the weight of your barn door. All of Renin's quality, durable, hardware designs include weight ranges in the product description, making the information convenient to locate and your decision easier to make.
Step Three: Select Your Color
Color is one of the most important decisions you'll make in your barn door hardware decision. Use color to contrast or complement the color of your barn door. With a color selection that includes matte black, satin nickel, copper or burnished bronze, the possibilities are endless.
Get inspired! Make your barn door and barn door hardware a room's focal point by finishing it with a soft pop of color against a neutral wall. A black bent strap hardware kit in classic matte black adds even more interest.
Tip: If the thought of selecting individual barn door hardware pieces seems overwhelming, then choosing a sliding barn door hardware kit might be right for you. Barn door hardware kits include all of the necessary hardware components in the same color. All you do is add accessories.
Step Four: Add Accessories
The last step before placing your order is to choose the accessories that add the final touches to your customized barn door design.
Soft Close
Renin's Easy Clip Soft Close attachment is designed with an anti-slam mechanism that ensures a soft, gentle open and close. Perfect for bedrooms, bathrooms or anywhere a quieter close is desired, the Soft Close attachment is concealed behind the barn door track so it does not affect the look of your door.
Locks
Locks often are installed in a bedroom or bathroom setting. An easy addition to most flat track barn door systems, Renin's Easy Latch Barn Privacy Hardware barn door lock is designed to give you the privacy you need in your home without compromising style or function.
Handles
Barn door handles are a popular and functional addition to many interior sliding barn doors. They allow you to pull your barn door open with ease, no matter how heavy it may be. Handles are available in a variety of designs and finishes to meet every style need, including a clean modern handle design in polished nickel and a rustic-style handle in matte black, just to name a few.
Barn Door Guides
Barn door guides help your sliding barn door to move quietly and gently, while remaining in place.
Or…Choose a Kit for Simplicity
You also have the option of skipping all four steps listed above and purchasing a barn door kit. A sliding barn door kit includes the barn door design of your choice, plus all of the necessary barn door hardware available in several complimentary styles and colors.