Barn doors are getting more popular than ever in every day homes, and don't only reflect a barn or a farmhouse. It brings a dose of rustic simplicity, warmth, and a statement piece to talk about. They are not only limited to a certain room, but can be used in various spaces around your house to pull a look together. Barn doors are available in different colors, patterns, and textures that are a great way to give a room a lot of punch without a lot of effort.
A place you might not think of using the barn doors are in your bedrooms! Here are a few ideas that may help with you making the jump to install a beautiful bedroom barn door set.
Bedroom Barn Doors
A barn door can be used at the entrance of your primary bedroom to add charm, without disrupting the character and décor of your bedroom. A bedroom barn door can be the highlight of your room or the perfect subtle element to pull the space together. When you think of a barn door bedroom set, we know that you may imagine a traditional sliding door taken straight out of a barn! But today, barn doors are available in a variety of designs; everything from modern, to rustic, to a classic herringbone design, or even unfinished pine barn door options for your DIY adventures!
Sliding Closet Doors for Bedrooms
Did you know that you can use barn doors as sliding closet doors in your bedrooms? Not only are they stylish, but the biggest advantage of a sliding closet door for bedrooms is that it's a great space-saving solution. Compared to a swinging door that may open inside or outside your closet, a bedroom closet barn door slides open, giving you full access to your closet, and slides close to hide the clutter.
You can choose your perfect bedroom closet barn door from an array of selections to match your design choices. Choose a classic herringbone pattern, or add dimension with a Z or K-Design, or let light pass through without invading privacy with frosted glass inserts.
Here's a great display of a before and after by Stacy Smith. Her old closet door opened inside the walk-in closet, taking up a lot of space. However, with Renin's Herringbone Chevron-Design Barn Door Kit, she got to reclaim that space back! Not only that, adding a sophisticated herringbone pattern, painted in Agreeable Gray by Sherwin Williams, reflected the other mixed wood tones used throughout the bedroom and added a visual interest to the bedroom barn door. Stacy paired the bedroom closet barn door with a soft close hardware, so the sliding barn doors don't slam shut, perfect for when you have kids!
Sliding Barn Door for Bedroom Bathroom
Another use of a barn door bedroom set could be in your primary bathroom. A sliding barn door can be used to separate the sleeping space from your ensuite bathroom. It gives the bedroom and the bathroom it's own unique style.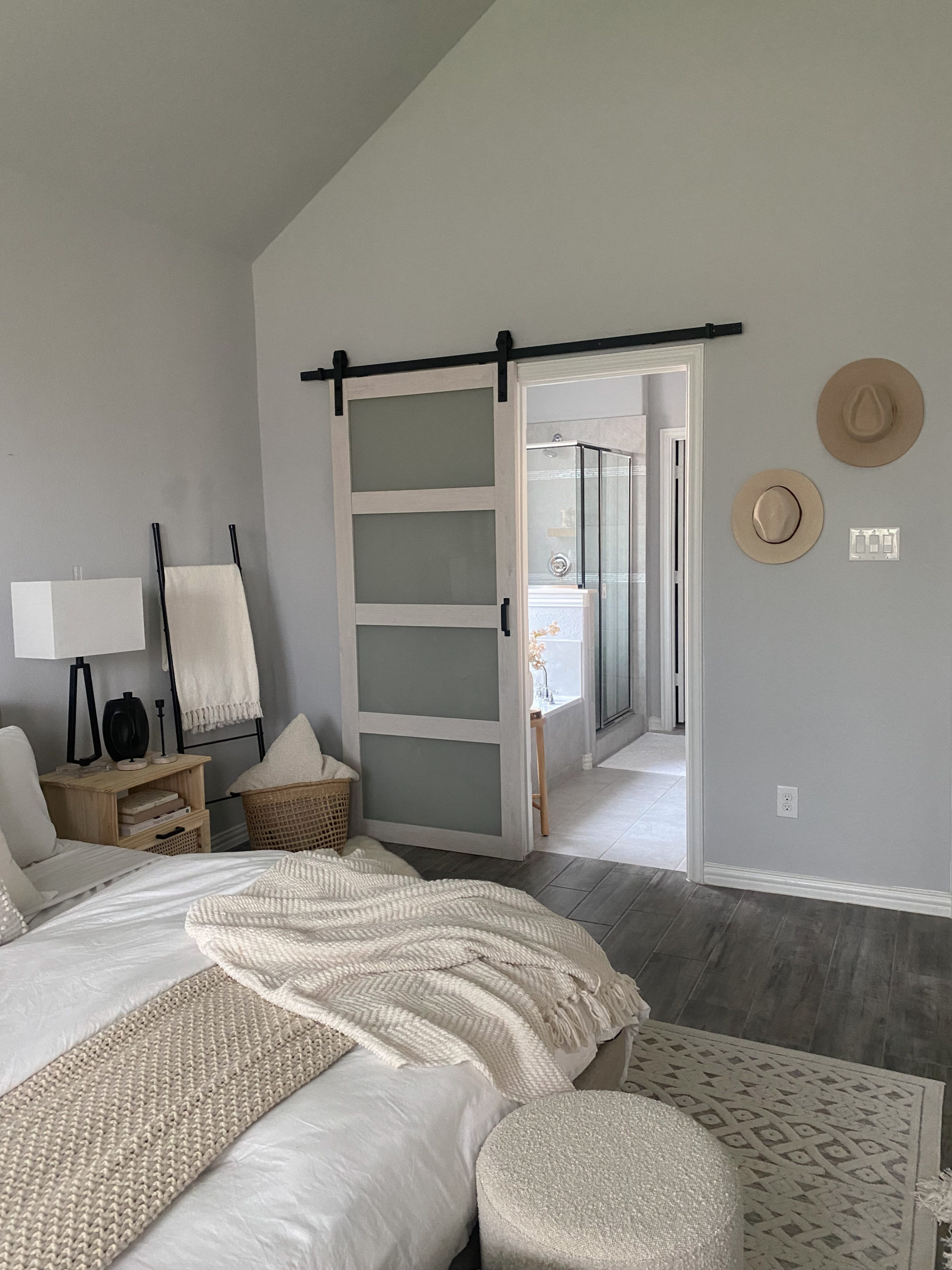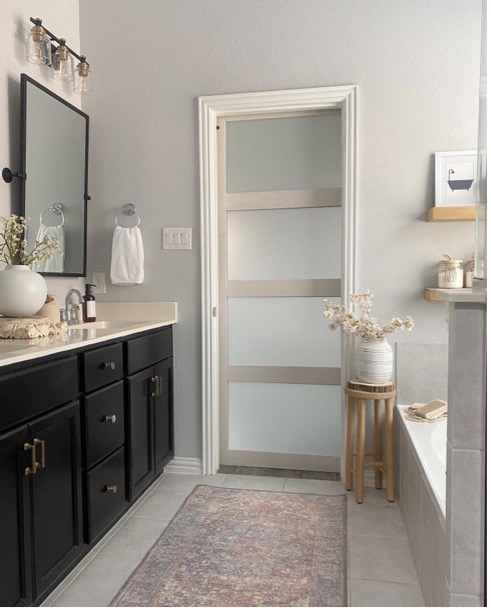 Andrea Vowels has put together a beautiful and aesthetically pleasing bedroom and bathroom space. Using Renin's Glim 4-Lite Bedroom Barn Door Kit with tempered frosted glass inserts, the design from bedroom to bathroom flows smoothly, while creating two separate spaces with their own unique style.
To add functionality to a bathroom in a bedroom's barn door, but without compromising style, a barn door lock hardware is the finishing detail completing your bedroom barn door look.
Krissy Abram has created a sophisticated neutral space using Renin's Sherwood Arrow Design Barn Door from our Mix & Match Hardware Barn Door Collection. Krissy added Easy Latch Barn Door Privacy lock to keep Nola (the cutest little dog) out when needed be!
Bedroom barn doors could add that oomph element you've been looking for to spice up your room. Renin offers barn doors in different colors, patterns, and textures, from finished to unfinished, available in different sizes to suit your needs. Further, today barn doors are easy to install, made even more easier with our installation guides and step-by-step videos!