Barn doors can create a dramatic or subtle look and deliver architectural interest, while saving space and adding privacy.  Barn door for living rooms are available in a multitude of styles, and are the perfect solution as a room divider, or a passage door.  Adding a barn door to your living room offers many benefits beyond the design and style it adds to your space.
Privacy
Living spaces can sometimes be limited so the actual living room can play double duty as a living space and a kids' playroom.  It's a place for your family to gather and chat, celebrate milestones, watch movies and play games, make crafts, or read books. The space needs to allow kids to just be kids, to learn and be creative. The space also needs to allow for privacy once the kids have gone to bed and the adults can unwind and watch a movie.  Adding a sliding barn door as a living room door allows for this to happen.  Open the barn door in the living room space so you can ensure the kids are playing safely, while you are busy doing other things. Close the living room barn door when you do not want to wake the children.
Room Divider
Working remotely is here to stay and we are all scrambling to find a place where we can work productively and minimize interruptions. A sliding barn door in the living room means you can separate a home office from the busy family living room space.  The barn door in the living room works as a divider, ensuring online meetings are conducted without interruptions, like your dog looking for a belly rub, your son wondering what's for lunch, or your partner asking if you have booked the dinner reservation!  It allows your home office to be easily divided from the rest of the home. Plus, slide the doors close at the end of the day and forget about work until the next morning!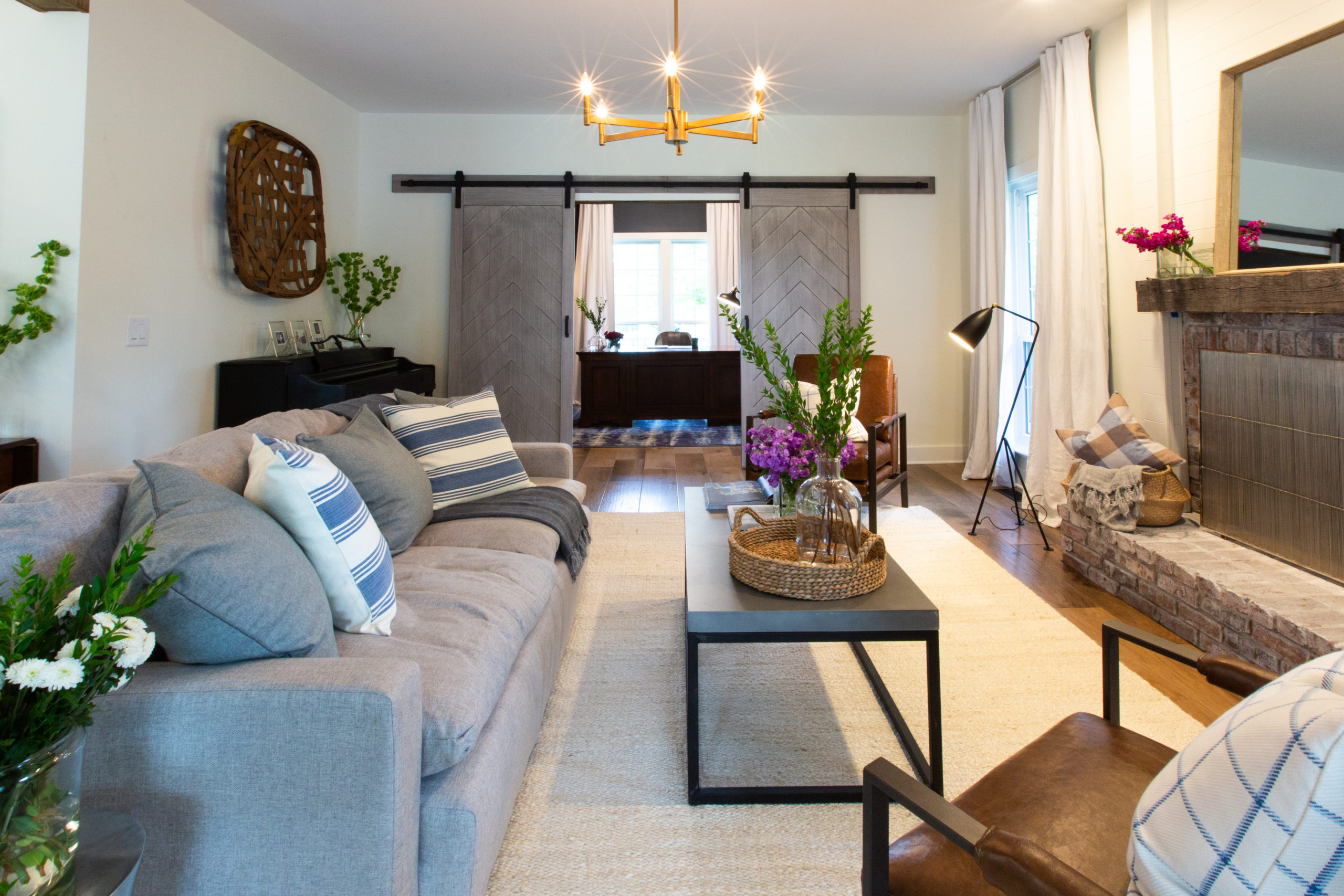 Styles of Barn Doors
Whatever your design style may be, selecting a barn door for the living room can be done by answering a few of these easy questions:
Depending on the size of your doorway, you need to select a single barn door option or a biparting application, which is designed to cover a larger opening. A biparting application will require you to purchase two complete barn door kits and install the kits side by side so the doors easily glide from one track to the next.
Barn door for living room doors are available in a variety of neutral shades that complement any décor style.  If you are feeling more adventurous, select an unfinished door and accentuate the natural variations of the wood with a stained finish, or paint it to make a bold statement.
Narrow Bathrooms
Barn doors can be used to tie a space together and expand the visual space in a narrow room, like a bathroom. With our Mix & Match Complete Barn Door Kit, you can choose from many different types of doors then select your hardware in Matte Black, Satin Nickel, Burnished Bronze or add some flair with Copper. Don't forget your Easy Latch bathroom barn door lock!
Once you have selected your barn door for the living room, consider adding accessories that add functionality to your door. Our Easy ClipTM Soft Close anti-slam mechanism ensures a soft and gentle open and close, guaranteed not to wake the children when you slide your barn door in the living room closed.
Looking for added privacy in your home office? Add an Easy Latch Barn Door Privacy, so you can lock your door when your leave your home office at the end of day.
The addition of a sliding barn door in your living room space is an easy DYI project that the family can tackle to add functionality and style.  Add personality and an instant conversation piece with a sliding barn door in the living room.
More Living Room Barn Door Inspiration